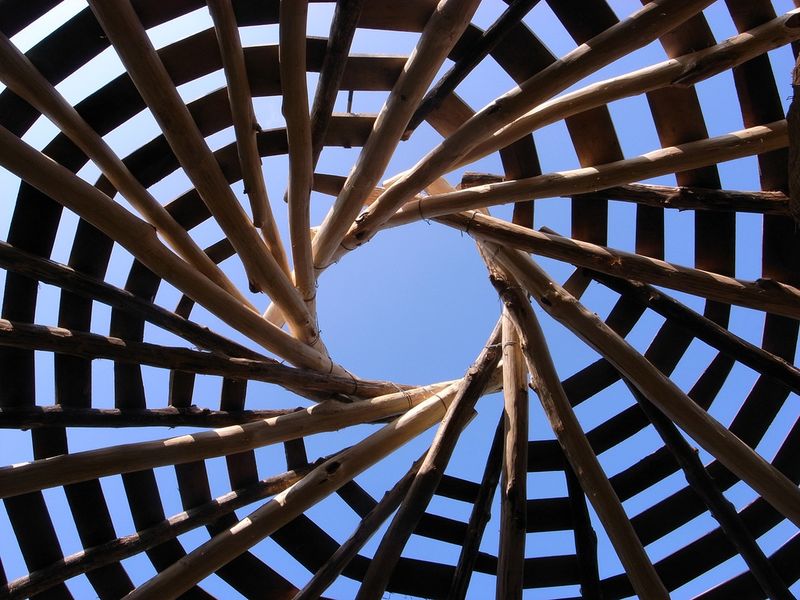 <image Reciprocal roof decking by Ziggy Fresh http://www.flickr.com/photos/smallape/2943537392/>
In my talk on digital literacies I mentioned a 'reciprocity economy', and just wanted to expand on the idea. We are accustomed to the idea of the attention economy – it's getting eyeballs that counts online. As each person develops their PLN online it seems to me that it's not attention that is significant, but establishing reciprocity.
I have come to believe that your personal learning network (it probably doesn't need the 'learning', it's just your personal network) is increasingly the most valuable asset you will have. And that's valuable as in 'adds value to your life', not economic value. It will help you with work, socialising, personal life, interests, hobbies, entertainment.
To deploy probably the most over-used analogy around, it's like a garden – you've got to sow, tend and weed it to get value from it. But it's more of a country garden, a bit organic and unplanned rather than the highly structured garden. It takes time and effort and you have to give something of yourself to it.
Think about how your PLN is constructed. It probably centres around twitter, a blog, your blog reader, delicious, Flickr, a few wikis, and maybe some other tools where you follow people (eg Slideshare). There will be different types of reciprocity in this, for example most of the people whose blogs I read also read mine.  Similarly in twitter, I tend to follow people if they follow me. This is fairly standard reciprocity – do unto others as they do unto you.
But can we extend the notion of reciprocity? Continuing with the examples of blogs and twitter, I will give you my continued readership if you give me interesting and regular updates. We can then build on this notion of reciprocal, but not identical, activity for more subtle interactions, let's call it shifted reciprocity. I can put out a lazyweb request on Twitter if I have either responded previously to such requests (standard reciprocity) OR I have given enough of myself to twitter, such that people feel well disposed towards me (shifted reciprocity).
If you're still with me and have accepted the proposal that your PLN is significant and reciprocity underpins it, then we can begin to think of an economy of reciprocity. This isn't something we make hard calculations about, it is probably what we do in most social relations all the time at a subconscious level. In this economy, the more you give online that is of value to those in your network then the more 'credit' you establish.
This allows us to see that, obviously, spamming is bad – you are not establishing a reciprocal relationship. But also if we look at, for instance, Sarah's list of following behaviour in Twitter, we can see that most of them relate to establishing reciprocity. If someone doesn't have a profile, or doesn't update then their reciprocal currency is diminished. It also helps us frame our behaviour in any new tool, for instance setting up auto-follows and direct messages in Twitter is devaluing the reciprocal nature of following – I know you'll follow me back if I follow you, but that means that decision isn't based on any assessment of my value to your network. Therefore we're unlikely to have much reciprocal value to each other.
It seems to me that what we're discovering is that like any economy (and economy doesn't have to mean money, natural selection arises because of nature's economy) establishing any 'wealth' requires effort, time or innovation. How this economy sits alongside the other, fiscal (broken) one will be a key question for social media.