There's been a bit of a PLE flurry of posts, generated by some Twitter discussion. Chris Lott posted that he couldn't see why people think you can't teach PLEs, or about PLEs. Scott Leslie argues that some don't like the acronym:
It's personal, not monolithic" complaint with the term, which I get and
agree with. My response is not to defend the "PLE" acronym but instead
just say if it bothers you, come up with a different one, or don't use
a moniker at all, but more importantly, model model model it for the 95% of learners (and teachers) who are drowning in the tsunami of information and choosing to turn their backs rather than learning to surf
Meanwhile D'Arcy Norman maintains (with the aid of some cool diagrams) that one person's PLE will differ from another's, and it is the people that are important:
the exact technologies that are in use at any particular point in time
don't matter as much as the fact that it is people being connected
through them. Tools come and go constantly, and the only constant is
that the people are the important part of the equation.
The debate on twitter seems to have been about whether one can usefully talk about PLEs since, by their nature, everyone's is different. There is no The PLE.
I'd like to argue that the term is okay, it has context (that of VLE), and also there is some benefit in 'teaching' PLEs. But maybe we need to nuance the term a bit, as we may be lumping things together. If in doubt about an acronym, let's create some more! So we have:
VLE/LMS – a centralised system that gives a consistent user experience to everyone
TLE – Teacher learner environment. This is along the lines of Scott Leslie's loosely coupled teaching applications. Less centralised than a VLE, the educator determines the range of tools, e.g. a blog with specific widgets, but all students use the same.
DPLE – Default PLE. In this novice users (could be educators, students, employees, etc), are given a default set of applications to constitute their PLE, but they have the freedom to switch them out over time. A minor example might be my recent conversion to iGoogle from the standard Outlook provided services. Except the option and ease of switching would be stressed more. Imagine a default Netvibes page, which people would soon customise.
PLE – the type of thing we ed techies have accrued over time, and continues to evolve. Work might be required on getting these apps to talk to each other, but really the people who operate at this end don't need much help.
This gives us a continuum of personalisation: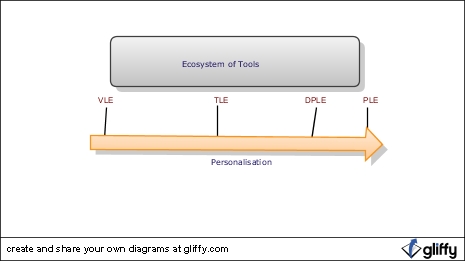 One thing to appreciate here is that there is no value judgement attached by the placing on the diagram – being further to the right isn't 'better'. These different approaches to technology will be suited to different contexts and audiences. That is probably obvious to everyone, but was something of a mild epiphany for me – PLEs and VLEs are NOT in competition necessarily.
[Update – that last sentence originally had the 'not' missing (such a small word). I've added it in, but now I'm not sure – which is truer for you – they are in competition or they aren't?]