Inward and outward facing technology
Stephen Downes recently argued that we could classify communication as inward and outward facing, saying:
a technology like Twitter is, in my mind, 'inward facing', because it reinforces communication with the group
– 'running with the herd,' as I commented on Noon's post, while I tend
to favour 'outward facing' communications, those that look outside the
group.
And he has this diagram to sum it up: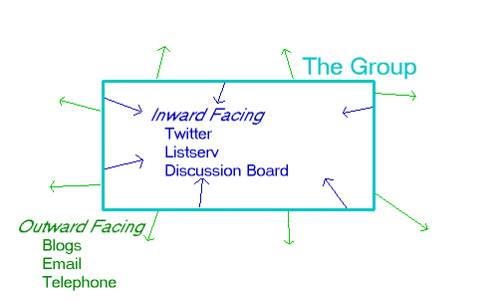 http://www.flickr.com/photos/stephen_downes/2379258809/
I'm not sure I agree with this analysis, as I think it comes down to your usage of the tools. Here is my reasoning:
I don't think many of us are outward facing in terms of the blogs we read. For instance, my GReader doesn't have many subscriptions to intelligent design blogs, or pregnancy, or snowboarding blogs, because these aren't things I'm particularly interested in. The blogs I subscribe to tend to be educational technology ones. So in terms of what I read blogs are no more outward facing than Twitter.
I could argue Twitter is outward facing since I tend to adopt a 'I'll follow you if you follow me' strategy. Thus potentially I am exposed to different types of people than I might be through the blogs I read. This would be even more the case if I were one of those people who followed 1000s of people in Twitter.
I accept that writing a blog is more akin to broadcast while Twittering is more akin to conversation, but even that distinction is blurred if you consider linking and commenting in blogs (which make them more like conversation) and the posting of links in Twitter. One could argue that because it is less effort to Twitter then people are more likely to post links to a range of things, not just those related to the subject area. In this respect then, Twitter becomes more outward facing.
The social interaction on Twitter adds a different element, which you don't always get on blogs. This means that, again, you may discuss topics or be pointed at resources which are outside of the group's normal discussion.
I'm not arguing one is better than the other, just that I don't feel the inward and outward facing distinction is appropriate to my use of the tools. Or maybe I've misunderstood what Stephen was saying – if so, just shout Stephen!