Crowdstatus and filtered twitter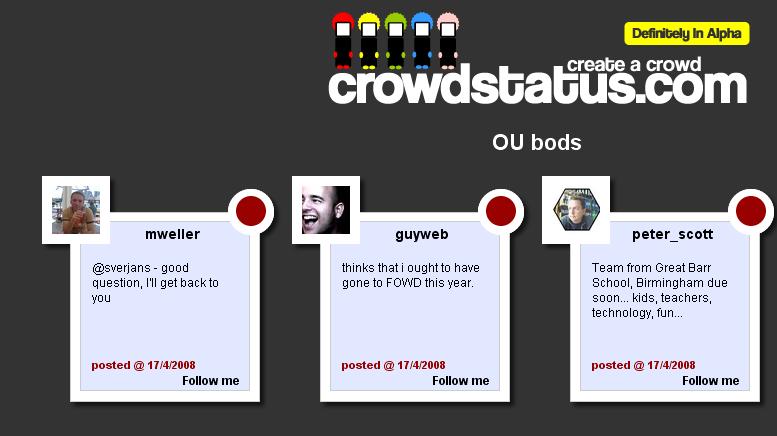 In my Twitter stream I saw that Dan Taylor had created a crowdstatus page for BBC people. Crowdstatus basically takes public Twitter streams and compiles them on a page with some nice graphics. I had a go and did the same for OU people I know on Twitter (if I've missed anyone off, let me know, or if in fact you're not an OU person and I've put you in).
Firstly, a couple of things in crowdstatus I'd like: the ability for anyone to move the order around; automatic refreshing; can anyone join a crowd, or can only the originator add them in?; the option to have most recent updates near the top; an RSS link; an iGoogle plug in (that's it for now).
Next on to the broader aspects. I like this because subsumed in my Twitter followers are a number of different networks. Even within my OU people there are OU Staff, IET, Students, etc as sub-networks. So it is good to be able to filter these. And this then really opens up the potential for community building or even (whisper it) knowledge management by Twitter.
For example, you get all your students to sign up to Twitter and then create a crowdstatus page for them. You can see how this filter of other Twitterers and aggregation in one space adds a social/peer working element to the course which could be quite powerful. And when the course has ended, it still persists (or goes in to the course alumni crowdstatus page).
Another example, everyone I work with in IET signs up to Twitter, and I create a crowdstatus for them. Then when we move into our swanky new open-plan office building, the wall mounted networked screens display the crowdstatus page. When you're making a cup of tea then you will notice that X is in a conference in Valencia, Y is struggling to write a JISC bid and Z is mowing the lawn. By osmosis almost you would have a better understanding of what your colleagues are up to and interested in than any number of scheduled meetings. It's the future of organisational dialogue I tell you!