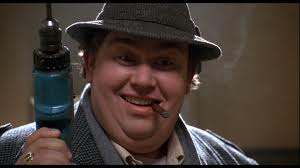 Uncle MOOC will be looking after you for a few weeks…
A metaphor is always a handy way to get a grip on something new (as long as one is aware of its limitations). My attitude to MOOCs changes on a weekly basis, and so does my MOOC metaphor – I'm sure you've got one of your own: the MP3 of education, this year's SecondLife, industrial revolution applied to education, a giraffe smoking a cheroot rollerblading down the Champs-Elysees – it can be pretty much whatever you want. So here is this week's MOOC metaphor.
MOOCs are like the patronising uncle who has yet to have a child of his own. They are great fun for the nieces and nephews, they are inventive, playful, and the kids always look forward to them arriving. But this uncle secretly (and after a couple of beers, not so secretly) thinks he could do a better job at raising the kids than the parents. He may also think they prefer him to their actual mum and dad. "Why don't they do all the stuff I do with them?" he thinks. "I'm great at getting them out of a tantrum, I do my distraction technique and they forget it. I never see their dad doing that," he compliments himself. "I would have a set of rules that the kids would respect and obey, not this slapdash approach," he vows.
And then, of course, he has kids of his own. Suddenly he realises he has to work as well as raise the kids, that his distraction techniques don't work with a tired 6 month old at 3 in the morning, that he has to do it every single day and getting the basic stuff done like feeding, bathing, looking after them is a real achievement in itself. 
This is how I sometimes feel about MOOCs and their relationship to formal education. They are good fun, they offer something new, a lot of learners really enjoy them. But they shouldn't kid themselves they can do the robust, day to day stuff better than the existing system. If they had to, they'd soon find that a lot of their energy is spent on the not-so-fun stuff, because that is required of them. But, like our friendly uncle they do also make the parents think "maybe we should go to the zoo more often," and "he does know how to get the best out of Tommy, I could learn something there". 
So when I see pieces like this announcement that Georgia Tech are offering an online Masters (they don't even have the good grace to blush when they use the term 'MOOC 2.0") it begins to sound not unlike, ooh, I don't know, an Open University (but with cheaper staff support). This makes me think – this is the first signs of MOOCs discovering that it wasn't quite as easy as they thought, but they still like to dress it up as a revolution.
That's my metaphor for the week, I'm sure Dominik has some better ones. What's your MOOC metaphor?