As a member of the Broadcast Strategy Review, it's good to see some of that work coming in to being, with the OU now on iTunes U.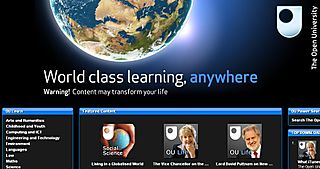 I like the tag line "Warning: Content may transform your life". This is for the proper quality stuff, and provides a good outlet for OU material (not the sort of hashed together slidecasts I do). My hope is that its presence exerts a pressure back into the university, so that it makes more educators want to do podcasts, because they can get easily get a global audience for them.
Anyway, have a browse there's some good stuff there (David Puttnam is always good value). Only one problem – the search seems borked, I couldn't get any results:


(don't tell Tony, he gets upset about things like this).