CoComment – I want to be a good blogger
I confess, I am not a good blogizen – I don't link enough, and I definitely don't comment enough. The latter is partly based on maximum return on investment – I have so little to say, if I do have anything worth writing I need it for a blog post, not to be hidden away on someone's comments. But I recognise how much I like getting comments (apart from the snarky ones – you know who you are;) so I should do more of it.
Alan Levine has an annual week of no-blogging, just commenting, in recognition of the value commenting adds. He used CoComment, which Sue Waters picked up on, but rates co.mments higher.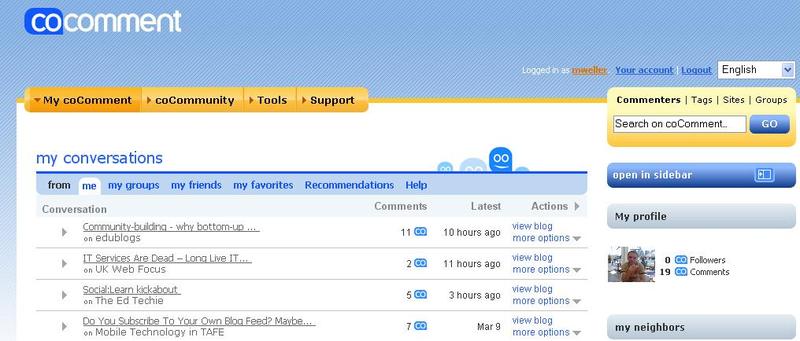 In my one man campaign to make technological determinism respectable, I installed CoComment because I think having a good tool will make me more likely to comment. First impressions are good – it installs on Firefox, and when you add a comment to a page it automatically adds it to the list of 'conversations' you are having. It has a social element so you can add people as friends or favourites, (not entirely sure of the difference). You can subscribe to the RSS feed of other's comments, or to one conversation. You can even claim your own comments on Technorati.
All this leads to some interesting reflections on the nature of comments. They form one of the second order modes of dialogue that operate around blogs (blogs really are the glue that holds the web together – why did we even have a web before blogs?). Twitter is another example of this second order, but unlike comments it can exist on its own. It overlaps with blogs, but isn't dependent on them.
Does it make sense to subscribe to someone's comments? Kind of, in that it will alert you to their thoughts on other people's postings. What CoComment adds for me is some stickability around comments – if I did post I wouldn't revisit and thus the conversation would be lost. Now I'm much more inclined to get involved in a debate.