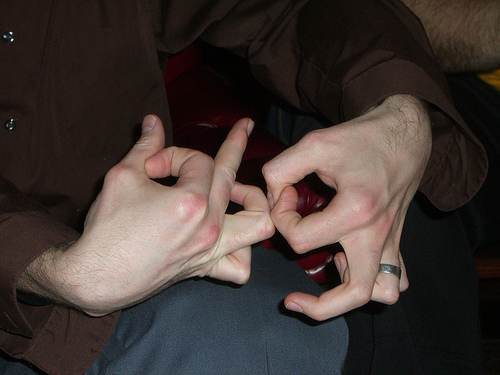 (lawgeek – http://www.flickr.com/photos/jdawg/110174487/ – may take some looking at!)
The recent kerfuffle over openlearn made me reflect on the relationship between the individual blogger and their institution. I'm not going to go into the debate about openlearn itself, but rather point out some things about the incident. From the OU Tony, Laura and myself have all responded. Laura's probably counts as a semi-official response, while Tony's and mine are independent to the extent that we could say what we like (although not independent in that we are obviously affiliated with the OU and to an extent the project).
Here are some observations:
i) There was a very quick response. I saw Tony had twittered the original post, I blogged about it, then twittered my response, then Tony blogged, all within a couple of hours. Had we waited for an official response to be agreed and worded it would have taken days, if not weeks, by which time it would have been irrelevant anyway.
ii) Stephen Downes had blogged about Seb Schmoller's post. He then blogged about mine and Tony's response. A lot of people read Stephen's posts, so if Tony and I hadn't responded there would have been no counter-argument for this audience.
iii) Stephen and others only picked up on our responses because we have spent a long time establishing a reasonable blogging reputation.
iv) Both Tony and I didn't feel any pressure to respond or defend openlearn. We weren't doing it at the behest of the OU, but rather as people who have a tangential relation to the project. This meant I was also critical of openlearn, and Tony has always been a friendly critic. For institutions this is a difficult thing to grasp, you have to give us the freedom to be critical in order for our defence to have any meaning. In other words you have to relinquish control of your corporate image. Had I been requested to post a defence, I think I would have declined – I've worked too long at this blog to allow it to be an institutional mouthpiece.
What this really demonstrates to me is that if as an institution you haven't got reputable bloggers on your team then you are exposed to a world of criticism that you cannot engage with. For organisations having bloggers isn't a luxury, it's a necessity.