Readers' favourite apps as mindmap
I asked recently which three web 2.0 apps would you least like to lose, and had a few responses. So, in the interest of playing with Compendium a bit more, here they are as a mindmap, with the size of the logo representing the number of responses for that category. I've bundled some together, and used a recognisable single product logo, so for example some people said 'Bloglines' and others 'Google Reader' but I've put these all together here. The same goes for the generic 'blog' – people didn't usually specify which blogging tool, so this isn't really an endorsement for Blogger, they just have a nice logo.
It is not a very broad sample, ten people in all, but here it is, for what it's worth.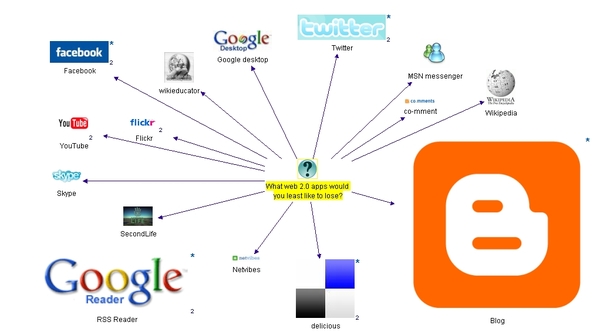 You can see the blog is the clear winner, followed closely by, erm, a blog reader. Maybe asking a blog reading audience isn't the best sampling method, but it does reinforce to an extent a previous point I have made about your blog being your basecamp in the online world.