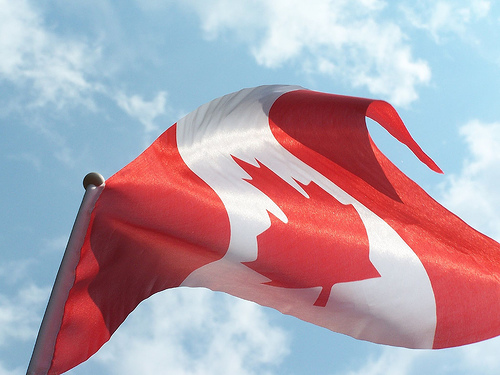 Happy Canada Day by Our Enchanted Garden http://flickr.com/photos/enchantedgarden/178563428/
A tweet from Jennifer Jones the other day made me reflect on the prevalence of Canadians amongst my favourite bloggers/twitterers. In response to Dean Shareski tweeting "Now I've got colleagues saying to me, "Can you ask your twitter
network…….?" Ask them yourself! I didn't say that but I should have", Jennifer responded 'Mine say 'ask your Canadian friends'. This is much the same for me – I have a blog rule that goes something like 'if one of the Canadians hasn't blogged it, then it can't be important'.
Here are the Canadian bloggers that form the core of my blogroll:

D'Arcy Norman
Brian Lamb
Scott Leslie
George Siemens
Stephen Downes
Dean Shareski
Then there are the 'Honorary Canadians', those who seem associated with the above, to the extent I probably thought they were Canadian at some point (indeed, since it's often hard to gather info they may well be for all I know):
Alan Levine
Jennifer Jones
Chris Lott
Jim Groom
Jared Stein
This is a semi-serious question: why do Canadians seem to take to blogs and Twitter so well? Is this a genuine observation, or just my perception? Is there something about the environment, education system or culture that might make it so?
I'm not sure Europeans can become honorary Canadians, but Tony would definitely qualify.