My general practice in twitter is to follow someone if they follow me, although not if they appear to be a bot, spammer, non-poster or nutter. So I have around 140 people following me, and I follow 136. There may come a time when I have to revisit this policy – I couldn't follow 1000 people say, or rather if I did, the value of Twitter would start to diminish for me because I would miss too much from the people I like.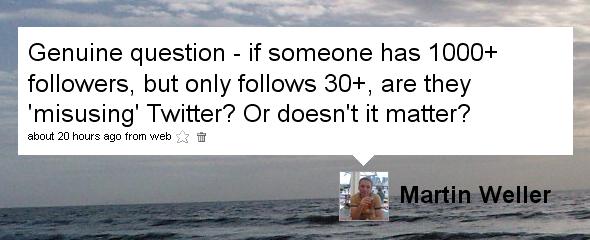 But people use Twitter differently, and I noticed one person I follow has over 1,000 followers but only follows around 35. So, I asked the question, is this a misuse of twitter, or doesn't it matter? The general consensus was that it doesn't matter. I think this is right, and misuse was probably the wrong term. After all those 1000+ followers are getting something from following that person. But it does illustrate how people think of Twitter differently – for me it's a dialogue, but this is using it more as a broadcast tool, rather like blogging.
Laura picks up on this, saying:
I'm at a a stage of my Twitter life where I am wondering how many
people I can follow. It's not quite a mid-life crisis but at 30
something (following) it's already a struggle to keep up with all the
good leads.
Which again gets at how people perceive Twitter. I don't feel that I need to read the tweets of everyone I follow. It's a dip-in, take a scoop from the passing river kind of experience. So in that sense it's not like dialogue – I don't interact with everything, and can dip out for long periods.
Erm, that's it, no real conclusion, just interesting to observe how something as simple as Twitter can have so many different uses and interpretations placed upon it.