Disaggregated communication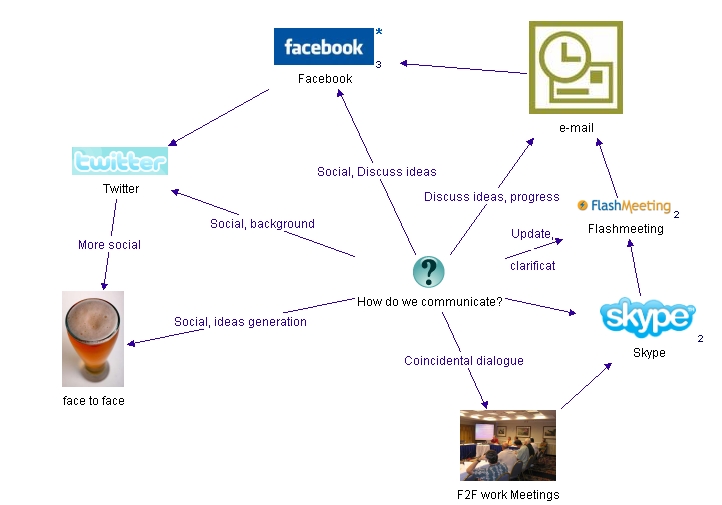 I was chatting with Tony Hirst the other day and we were reflecting on how varied our communication methods were amongst the Facebook project team (Tony, Stuart Brown, Liam Green-Hughes and me). We sometimes use Facebook itself to have a discussion, or we might have an email exchange. I can't really see any reason for why we use one instead of the other at any particular time, but these tend to be discussions along the lines of 'have you seen this?'
Then there are our blog posts and related comments. Sometimes we will respond to each other's posts in our own blogs, other times we will add a comment, but mostly this type of communication is more ambient – I know what Tony is thinking about or working on, and just as importantly, he knows that I know it, so when we meet we have a shared foundation for conversation.
And then we have twitter – we all follow each other, and so will sometimes send replies or direct messages, but as with blogging Twitter really provides a background to more focused discussion. I will know what they are working on, but also it helps maintain a social bond which is vital in an informal team such as this.
Occasionally we need synchronous interaction, and will use Flashmeeting or Skype.
Lastly, we meet up for beers and cross paths at workshops and occasional meetings.
I've put all this is a compendium mindmap, shown above. It gets more social as you move from work meetings anti-clockwise round to the beer. So, at least from the point of view of this grouping, face to face is both the least and the most socially oriented.
What Tony and I realised was that we didn't really register that we had all these methods of communication. Using them and maintaining an overall track of the dialogue is not difficult, it just feels natural. The reason this may be relevant is that in education we worry an awful lot about communication channels with students and having only one main method. Perhaps this disaggregation of communication is not as difficult to manage cognitively as we once thought and actually allows each medium/tool to be used to its best advantage. This only happens if you're comfortable with the technology though.