The MOOCs that ate themselves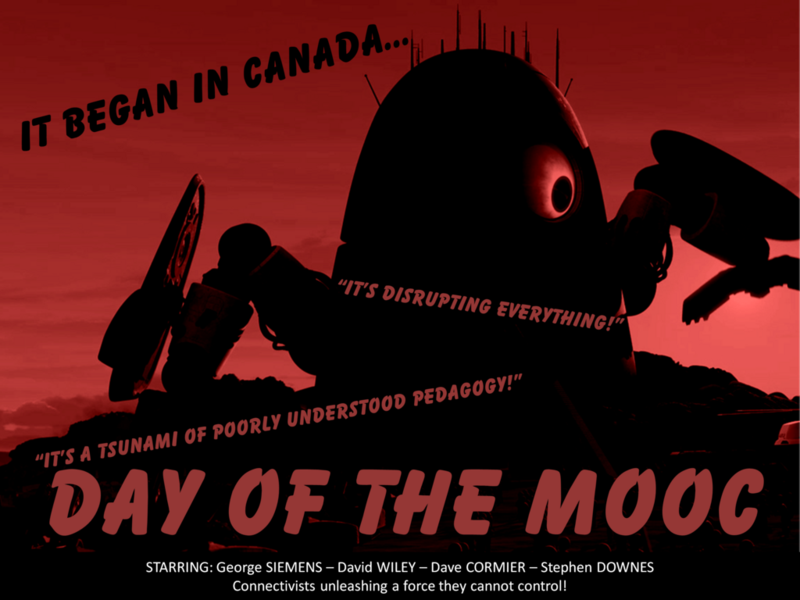 [Image by David Kernohan]
Unless you've been in a very long meeting you can't have missed the story about the Coursera/Georgia Tech MOOC that ran into difficulty and was cancelled (yes, we get the irony that it was Fundamentals of Online Education, no need to go on about it). The Georgia Tech MOOC was trying to do some different things, maybe they didn't all work, but I don't think it was the disaster it's been portrayed as. In the early MOOC days this level of experimentation would have been accepted (I didn't sign up for it, so I'm just going on the reports of others here). It seems that the level of expectation around MOOCs has made this level of flakiness unacceptable.
This is but the most publicly embarrassing example of a growing trend I've noticed. As MOOCs have become mainstream and high profile there is increasing pressure on them to be very high quality, robust and efficient. There is a good deal of brand reputation now invested in them. In short, they have become the equivalent of television broadcast. This means that they're expensive to create, need to appeal to a broad demographic, and have high production values. If this is their direction then there are several inevitable outcomes:
They become unsustainable – a good MOOC is so expensive to put on that it simply isn't worth doing. You're providing it for free after all.
Only elite institutions offer them – given the expense, only those institutions who have the money, or the skills to produce broadcast quality content will provide them.
They are conservative – as Georgia Tech found, it's better not to try anything risky or innovative, because the cost of failure is too great.
MOOC failure will be costly – if you fail publicly and damage your own, and your institution's reputation, don't expect them to give you promotion. So why risk it?
That'd be quite a depressing scenario, in such a short space of time MOOCs could have moved from the 'we're all in this together' ethos to another form of broadcast controlled by a few. Hopefully people will still experiment with the cMOOC type approach, and offer a huge buyer-beware caveat. But unless we want to kill MOOCs, I'd suggest we all cut them a bit of slack as learners.