Connections are more meaningful in the long tail
I can't remember if Chris Anderson made this point, but it came home to me the other day. When you are operating with blockbusters then the connections you make are pretty meaningless since these artists or products have become a commodity, there is very little chance of overlap with other tastes.
Let's take an example of music – I don't really listen to a lot of hip hop/rap (hey, I'm a Smiths fan, what do you expect?) but I like a bit of Kanye West. However, looking up Kanye on iTunes is not really going to find me artists who are similar to him – it wouldn't be a good starting point to get into more rap. This is because he is a popular artist and so the other artists people buy aren't really like him at all. Take a look: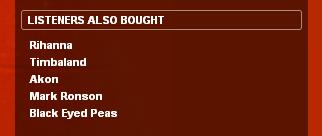 Believe me, I am not going to like any of the similar artists listed here – content discovery in blockbusters breaks down, because the overlap with other content becomes too spread out, so you end up linking only to other blockbusters. But now let's consider a more long tail artist, say the excellent Sufjan Stevens. Now look at the similar artists in iTunes: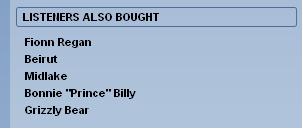 I already know and like Midlake, and through this route have discovered Bonnie Prince Billy who has turned out to be a great find, and will check the others also. Content discovery becomes meaningful in the long tail because there is greater similarity between the content.
And the same applies for networking – if I find that someone likes Jaws say, then even though it is one of my favourite films, I wouldn't hold much hope that the other films the person likes would also be of interest. I like Jaws because I consider to be the perfect film in terms of structure and pacing, (and, yes because I like sharks too) but other people will like it for many different reasons because it will have reached a level of penetration in society that has many different routes to it. But, if we take the Korean horror film, A Tale of Two Sisters, then if I find someone who likes that, I will be much more likely to take their recommendation for other films (the content discovery element), but more importantly, I would probably find dialogue with them more useful aslo.
So what might this mean for education? For a start if we are to encourage content discovery then it shows we need a long tail of educational content. We need a wide range of resources that suit different styles, use different pedagogies and incorporate different media. Even with the investment in OERs we don't have this quantity of content yet.
It also illustrates that if we want to encourage networking between learners, then we need to find tools that help them make meaningful connections. Just being a psychology student isn't sufficient, it will be a mixture of very specific subject interests, plus personal information that will help learners find study buddies who are appropriate.