Space – The purpose of education
<image http://www.flickr.com/photos/see-through-the-eye-of-g/5414817728/ by GollyGForce>
This is my contribution for the Purpos/Ed blog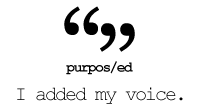 In this post my default interpretation of education is that which I'm closest to, namely formal, tertiary education, although some of my points will be valid for other levels of education (primary and secondary) and informal, personal learning.
I've been writing about digital scholarship a lot recently, so one way to think of the purpose of education is to turn this on its head, and rather than consider what functions scholars perform, to suggest that the purpose of education is to have a place where these functions reside. Not all of them relate directly to teaching, but they can be seen as a collective set of functions that best make sense clustered around an education system. Boyer defined the four functions of scholarship as discovery, integration, application and teaching. Examples of these would be research, interdisciplinary analysis, public engagement and delivering lectures, respectively. All of these could be done separately and outside of the education system we know, but they are all so interlinked that it makes sense to have them combined within the same institutions and often within individuals who will span all four functions. Although research is often given priority (particularly in promotion), it is really the teaching function that acts as the glue holding these scholarly functions together. So one answer to the question 'what is the purpose of education?' is to say that it provides a means by which these functions can exist.
But I think if I was to have to give a simple answer I would say the purpose of education is space. For an individual student it provides space to learn without the need for immediate return or application, space to think, and for many young people for whom higher education is a formative experience, space to discover the sort of person they want to be. For society it provides space and distance from commercial pressure, where expertise can develop independently. Without this space the demands of the instant can overwhelm other considerations. This maintains a crucial mix within society. We need people who are commercially oriented, who react to trends quickly and make fast decisions. We also need those who consider many variables, who take a long view and who remain independent, just as any good group needs a mixture of hawks and doves. The danger of the commercialisation of education is that it seeks to cast everyone in the same mould, and thereby undermine a key function of education.
Your attitude to space will depend on your context: for the person buying a beach front apartment, then space is expensive, to the individual trapped in a packed lift, its absence is suddenly paramount. Getting the balance between these perspectives will be the challenge for education and society over the coming years.