The ups & downs of embracing unpredictability
In a recent presentation I argued that producing low cost content as a by-product allowed institutions to embrace unpredictability, in a way they can't do when spending large sums of money on content. If you are spending a decent amount of money you need a project, with identified target customers, objectives, key performance indicators, a budget, lines of responsibility, etc. But a lot of the fun stuff online happens unpredictably. The makers of Downfall didn't intend for it to be an internet meme  after all (and then blew their chance when it became one). As John Naughton puts it the net is "a global machine for springing surprises".
In a small way I had an example last week, which will be familiar to many bloggers. I wrote a post about peer review, the essence of which was to say I would no longer review for closed journals. I knocked it out fairly quickly, in half an hour while I was waiting for a meeting to start (blogging is great for filling these gaps) and did some quick calculations. John Naughton blogged it, and from John's link I received the equivalent of the blogging Legion D'Honneur, Cory Doctorow blogged it at BoingBoing. A ripple then starts so a few others blogged it (including Richard Stallman and George Siemens). You can see this peak of traffic here: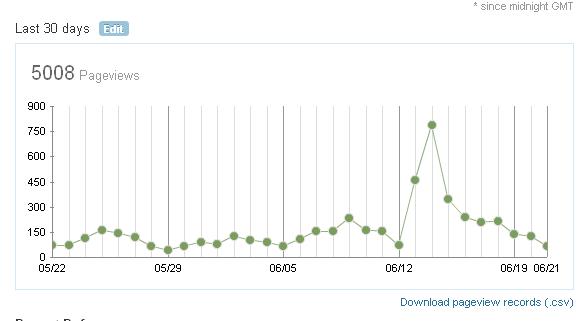 This is fun when it happens, but you can't predict it. In my view the previous post to that one, on new local newspaper models, was a better one. But you'd drive yourself insane by attempting to predict which posts get picked up and by who. There is undoubtedly a threshold – once someone like BoingBoing links to a post then there will be an almost guaranteed level of traffic. But there are too many variables to know when something might get linked to. The message for this is twofold – firstly just keep going, and secondly, be very wary of any expert who tells you they know how to generate traffic and control that pesky unpredictably.