The "Technology isn't important" argument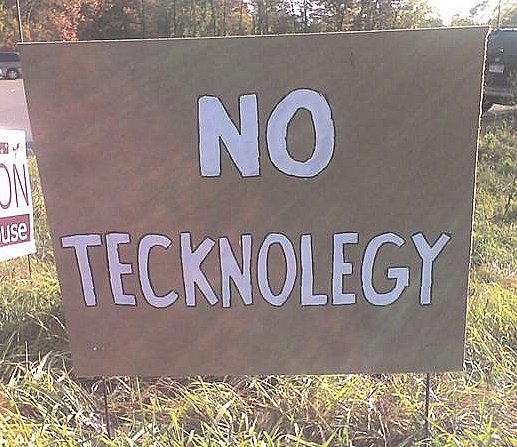 <No Technology in Brighton by Sammy0716 http://www.flickr.com/photos/28438258@N08/3005591006/>
Ten years ago I chaired the OU's first major online course (I may have mentioned this before 🙂 and we had an onslaught of students who wanted to take it, precisely because it was online. I gave a talk about how we (John Naughton, Gary Alexander and myself) had shaped the course around the web. Our idea had been to fundamentally make technology the focus, and envisage a course that had the internet at the centre of it. At that talk one of the objections was 'technology is irrelevant, it's pedagogy that matters.'
I gave a woolly, conciliatory response then. I have been hearing the same argument in different forms for the past ten years now, and my response is less accommodating now. It came up again at ALT-C when I was there, and my reaction is now almost apoplectic. Because people don't want to be seen to be technological determinists, or just geeks, it's often met with sage nods and murmurs of agreement (hell, even applause). It comes in many different guises, so here are some of the ways it is worded:
This discussion is about technology when we should be talking about learning
Technology shouldn't be the focus, it should be people
Why are we talking about technology , the emphasis should be on communication
Etc, you can substitute some of your own terms here as to what is more important than technology (society, process, fruit). Now there is some truth in these beliefs, technology often doesn't succeed because we ignore all the stuff around it – the administrative context it operates within, the time people have to use it, how it makes people feel about their jobs, etc. I know all this stuff, but what 'the technology isn't important' people often really mean is 'I want to ignore technology'. And that is surely the wrong way to go.
I'd go along with Clay Shirky's argument that technology becomes really interesting when it becomes invisible (eg the mobile phone became a powerful social force when it became ubiquitous). But in order for it to become invisible it first has to be visible. While it is surely true that ultimately what is interesting about twitter, say, is nothing to do with the technology of twitter itself, but the connections it fosters, the way it changes our social interactions, the global peer networks we form over it. And eventually we won't talk about twitter at all. But it is a necessary step on the journey to the 'bigger picture' to be interested in the technology. Ignoring the technology won't allow you to jump to the end point, it will prevent you getting there.
I guess it depends on where you are coming from. In his keynote Martin Bean (the OU's new VC) made the point that of technology, people and process, then technology is the least important. This has probably been true from his perspective and experience from working at Microsoft. As he said, he has sat down with education ministers who have been blinded by some new software or hardware and have completely failed to put into place any of the framework which will make them effective. If you are dealing with government ministers then getting across the 'technology won't solve your problems on its own' argument is paramount.
Alternatively, from my perspective the technology isn't important argument is used as a justification to disregard anything technologically driven and hopefully carry on as we've always done. In this context suggesting that technology isn't important is irresponsible. I'm sure plenty of journalists argued that technology wasn't important, it's quality reporting that counts. That didn't stop technology completely transforming their industry. And I'm sure post-Gutenberg we heard arguments that 'printing isn't important, it's what's in the Bible that counts'. And when Brunel was busy laying railway lines I'm sure horse-drawn carriage owners insisted that 'the railway isn't significant, it's staying in nice inns that we should focus on'.
So this is a warning – if you use a pseudo 'technology isn't important' argument when I am in the room, expect a long, painful scream.