On being (almost) a 1000 miler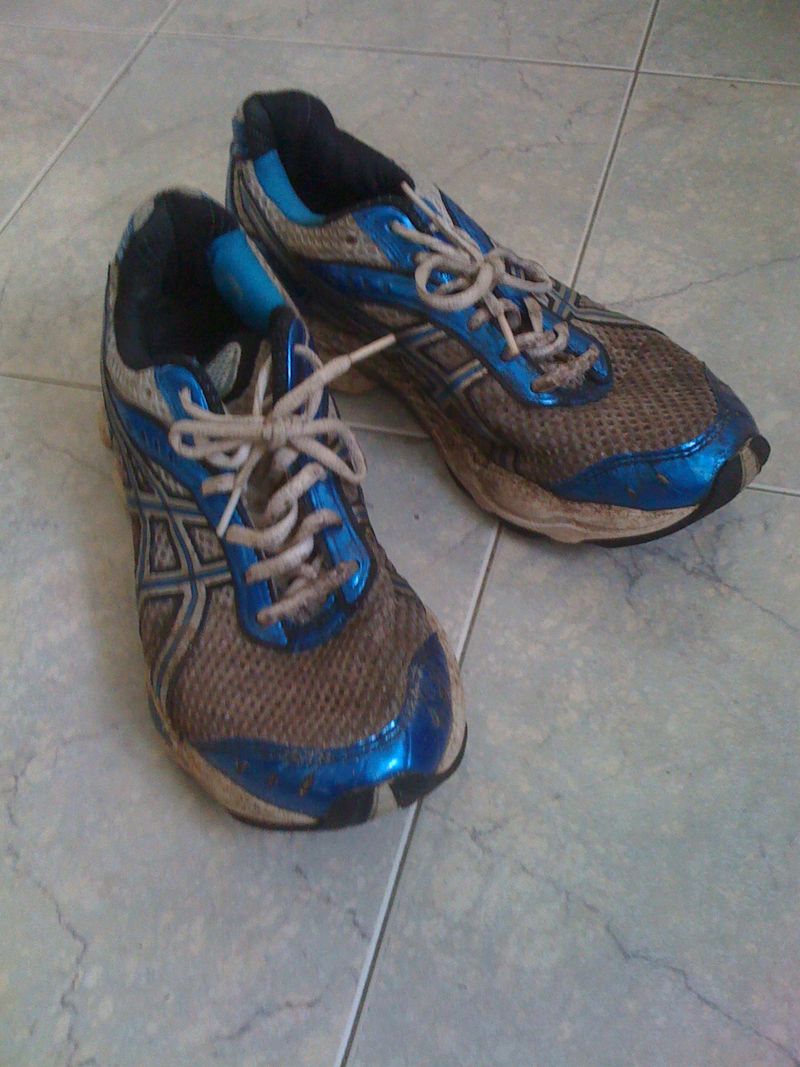 (it's been a tough year on my trainers)
At the start of the year I set myself a goal to run a 1000 miles this year. That works out at about 20 miles a week, so not too bad when you're going smoothly, but when things get in the way, it mounts up. After a slow start, I was well on target to achieving it at 950 miles at the start of December, when I developed hip bursitis and was told to lay off running for a few weeks. I found this really depressing – running is part of my identity, and not just any old exercise. I'm hoping I can take it up again in the new year after some physiotherapy and maybe a cortisone injection.
But this post is not about self-pity, but about some of the things I've come to understand over the year. You could probably substitute 'learning' for running in most of this
and the same would apply (oh, okay, maybe not, but I need someway to
justify this post).
There are no bad miles – the good thing about an overall distance goal, rather than say a pace one, is that even if you have a bad run, it's still miles in the bag.
Getting going is the tough part – because of my wife being in hospital at the start of the year and all that had preceded that, I hadn't done much running since October 2008. This meant I was starting from a low base – getting a 20 mile week is tough when your doing 3 or 5 mile runs. But crucially I did something, so even if in those first few months I was falling short of the monthly average, it was a whole lot better than doing nothing.
Big chunks pay off – once I'd got my long run up to 10 miles or more, then hitting and surpassing the weekly average was easy, I could do it in 3 sessions. When you up the big chunk the little chunks get proportionally bigger too, so my shortest run increased from 3 to 5 miles.
Routine is key – disruptions such as going away on business, holidays, etc make it hard to fit in the weekly schedule, so need careful planning.  By planning the schedule I notched up 70 miles when we were on holiday in France.
Do it when you can – you don't know what will occur, such as my bursitis, but also picked up a back injury in the summer (not from running but from moving a guinea pig hutch would you believe) which took one week out and a cold in March removed another week. These time-outs impact on the weekly average quite considerably, and I regretted the times I could have gone for a run but had decided not to, as these could have accommodated the injuries.
A long-term goal is motivating – there were countless times when if I had been just running for the sake of it, I wouldn't have bothered, but the pressure of the overall goal was enough to make me go out.
Different strategies are required – I don't like treadmill running much, but for a while I made myself get up every morning and do 1 mile on the treadmill in our garage, in addition to any other run I might do. It didn't last long, but it all counted. Similarly I experimented with hill sessions, 5K times and tempo runs to vary it.
So, although I fell short in the end it's been a worthwhile process on several fronts. Healthwise, it equates to about 120,000 calories (or 750 pints of beer if you prefer that measure), and will have kept my heart, if not my hip, in good working order. It's given me routine, and space for reflection. Most importantly it's given me lots of data to obsess about.
And if we're playing the 'running is like learning because' game then the analogy falls down with the final result – unlike your hips, your brain won't get a stress injury from overuse.